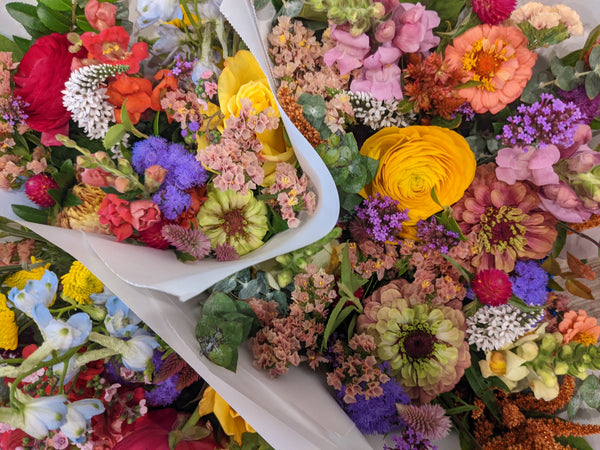 F L O R I S T R Y
Welcome to Floristry by Ithaca Flower Shop! We offer flower and plant delivery services to Ithaca, Cortland and surrounding areas Monday - Friday. You can shop our Floristry products at our Ithaca location inside Botanist Coffeehouse at 1201 N. Tioga Street. Our Cortland location has moved to 165 S. Main Street inside the Crescent Commons Building. While our Cortland location does not offer in-store shopping, you can call us to preorder a flower pick up - and of course our website is open 24/7 for delivery orders!
F L O R I S T R Y
Fresh Fall Flowers
Seasonal flowers are still here! The weather is changing but our local flower farmers are still busy providing us with the most beautiful fresh blooms.
BOTANIST COFFEEHOUSE
Our Ithaca shop is open inside Botanist Coffeehouse! Hours will be Monday-Saturday 7am-2pm for in-store shopping. Phone lines are open Monday-Friday 9-5 to place an order. Come grab a coffee and browse our selection of plants, bouquets and home fragrances.
THE CLASSROOM
Come visit our studio located inside the Crescent Commons in Cortland! Coming this Fall, keep an eye out for our class schedule or if you want to host a group of friends for a private class event - feel free to reach out to us via email!